Love by Beef? Oh, yes. I think that if California were going to write a foodie love letter to Texas it would look something like this…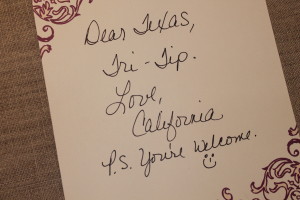 You may be thinking, "what in the world is Tri-Tip and what is there to love?" Or, perhaps you have lived or spent time in California, in which case you are thinking, "who DOESN'T know what Tri-Tip is and how could you NOT be in love?!" After all, every potluck, social, tailgate party, barbecue or general gathering that takes place anywhere in the Golden State typically centers around it, right? For those in the first group, a Tri-Tip is a beef roast. A super-tender beef roast that cooks in less than an hour and a half and eats like a steak. How can this be wrong? And how can this be a West Coast secret?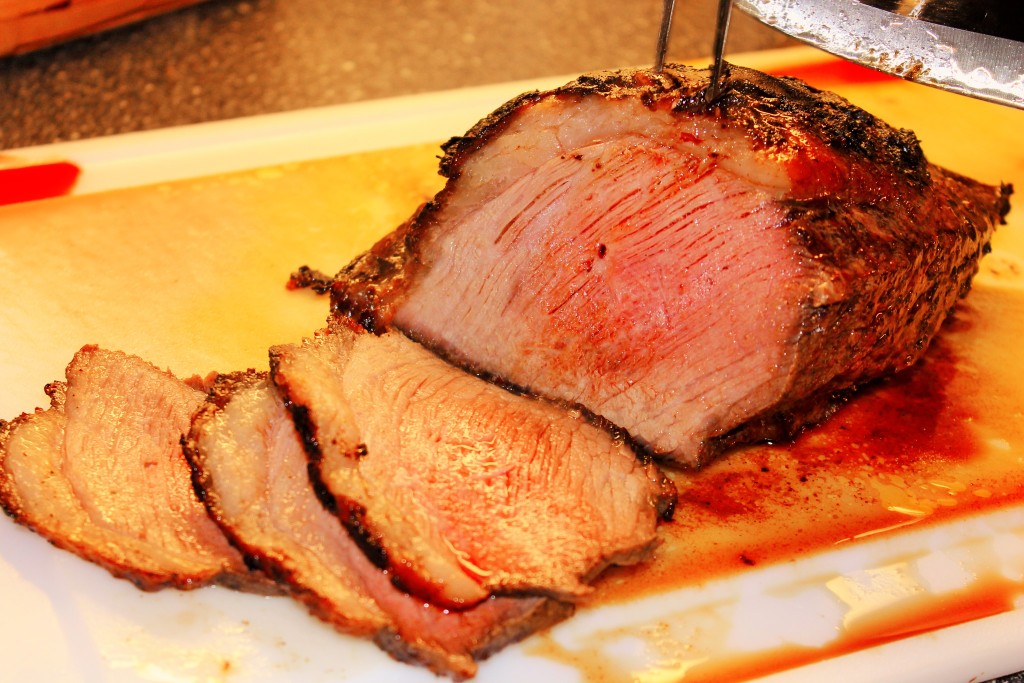 Texas, how have we not discovered this beef love en masse yet?! After all, Texas is the number one state in the Union for beef production according to every beef council and organization I checked with. Is it because we are so preoccupied with brisket that we missed it? (Ha! Made a rhyme!) Or perhaps Californians all made a pact one day to keep this super-top-secret? Tri-Tip Roast came into my life very shortly after moving to California in 2000. I was visiti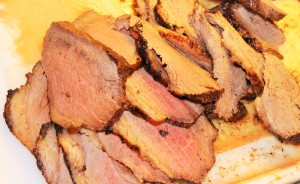 ng a church and they kept talking about a "Tri-Tip Social" event that was about to take place. I was totally perplexed and couldn't concentrate on the sermon trying to figure out what in the world it was. Was this some crazy ice-breaker game, or the name of a weird public park or some California secret society?? Was there a handshake? Would the let me in?? When I finally got the guts up to ask what it in the world it was, I wish you could've seen the look on that face. I must've been dramatic. Imagine that. It was pretty funny. Well, now I know. And what a pleasant surprise!
I lived in California for 11 awesome years and have nothin' but love for you, Cali… nothin' but love! In that time, I ate a lot of Tri-Tip and fell absolutely head over heels with this cut of meat. It actually comes from the sirloin area and is triangular in shape, hence the name. I hear that this cut usually gets cut up for sirloin tips or thrown into the grinder for ground sirloin. If you cannot find it in your grocery store or meat market, ask your butcher about it. They may be able to cut it for you or get it for you somehow. There is a grocery store in my hometown in Texas (FRESH by Brookshire's for those of you who live here, too) that carries it… please people… buy it so they will keep carrying it! I can only buy so many, ya know?
Anywho, mastering this cut of beef, while an art-form to many, is not scary… it is easy to make a delicious and tender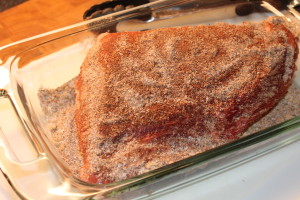 Tri-Tip. Trust me Texas peeps… everyone you love will go crazy for this dish and will ask you to make it again, so seriously try it. Much like our beloved brisket, Tri-Tip likes to be rubbed. No need for messy marinades, which really helps make preparation quick and easy, so I guess this is a low-maintenance love. Score!
Next important thing… sear the outside. The key to juicy, tender beef is getting a good sear on the entire outside, then slow-roasting the beef to keep as many of the juices as possible inside while it cooks. When meat in the oven drips a lot, that just mean a less juicy piece of meat on your plate because you've already lost all of the juicy goodness. Whether you cook a Tri-Tip on the grill or in the house, (and yes, just one more reason to love this cut of beef… you can get fab results both ways) you will just lock in flavor and juiciness by browning the outside quickly, then finishing it by roasting until it comes to the proper temperature.
Speaking o' which… invest in a good oven thermometer. They are not expensive and will make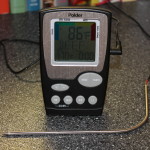 sure that your meat is cooked the way you want it every time. I can't tell you how many minutes to cook it because it totally depends on how many pounds your roast is, how thick the meat is, how your oven or grill cooks and a ton of other variables. A thermometer takes the takes the variables out of the equation and tells you when it's ready. Super-important, right?? Over-cook and everybody has to chew for-ev-er. Undercook and you cook freak people out with the bloody mess on the cutting board. Then re-cooking it some more dries it out and no one will understand why this Tri-Tip thing is supposed to be so good. We can't have that. Get the thermometer… you'll be glad you did.
Not just for the Tri-Tip… for every cut of meat you cook. And I like the electronic kind… it beeps when it hits the temp you set it to. And I am usually drinking wine, talking or working on three other things. So if you are like me, the kind that alerts you when it hits your target temp is worth every penny!! I got mine from the Cooking Club of America (yes, I know…. Lifetime member. I'm a dork and I know it, so it doesn't hurt my feelings that you are thinking it.) but here is a link to one that is no expensive and does everything mine does… Digital Meat Thermometer on Amazon.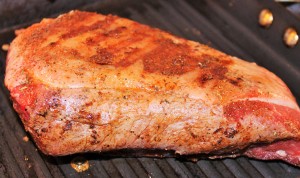 Backing up to a quick little browning note… there is not really gristle in the Tri-Tip cut, so the fat is all goodness. Trust me… I am a texture person and that girl who will oh-so-subtly spit funky bites of meat into napkins and casually hide them in anything that the waiter might be picking up next. However, a well-cut Tri-Tip has a thin layer of fat that cooks well, soaks down into the rest of the meat for flavor and is deliciously edible to even a picky-texture person such as myself. So, this is why I will instruct you below to cook with the fat on top so that it can melt and seep all of its fantastic flavor down into the rest of the roast in the instructions below. You won't be sorry.
So, back to this being what's for dinner. A Tri-Tip is so versatile that you can seriously serve it with anything. Rice Pilaf is a natural starchy partner, and I also love White Cheddar Mashed Potatoes with Tri-Tip… or any mashed potatoes for that matter! On this particular evening, it shared a plate with oven-baked sweet potato fries and sautéed zucchini with tomatoes and the whole meal was delicious. Whatever you serve it with, please let me know how it turned out! I would also love to hear what kinds of rub you use and your thoughts on this recipe. Thank you for being a part of my food love! Enjoy!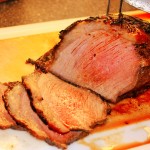 Servings

Prep Time

6-8

people

5

minutes
Cook Time

Passive Time

30-50

minutes

10-15

minutes to rest
Servings

Prep Time

6-8

people

5

minutes

Cook Time

Passive Time

30-50

minutes

10-15

minutes to rest
Servings

Prep Time

6-8

people

5

minutes

Cook Time

Passive Time

30-50

minutes

10-15

minutes to rest

Servings

Prep Time

6-8

people

5

minutes

Cook Time

Passive Time

30-50

minutes

10-15

minutes to rest
Set your Tri-Tip roast out in a glass dish to come to room temp on your counter. In the meantime, prepare your rub.

For the rub, combine salt, pepper, seasoning blend, garlic powder and brown sugar in a small bowl. Rub the seasonings over every surface of the Tri-Tip Roast to coat evenly. Cover with plastic wrap until ready to cook. (This step can be done several hours in advance.)

Preheat oven to 350 degrees. Oil a grill pan or large cast iron skillet with oil, spreading and removing excess with a paper towel. Sear and slightly brown on all sides, starting with the large fat-flap side, getting all edges and ending with the fat on top.

After only a minute on the final side of the Tri-Tip, remove from direct heat and insert meat thermometer where the probe runs long ways, directly through the center of the roast for the most even cooking temp possible. Place in preheated oven and roast until it comes to the desired temp in the center. (145 degrees for medium-rare, which is perfect for the Tri-Tip... then edges will be cooked more and there will be something everyone!)

When your thermometer reaches the right temp. remove from oven and take the roast off of the pan and set on a cutting board to rest for about 10-15 minutes. Tent with foil to make sure you retain your heat. This is super-important... this step stops the cooking process, lets the meat start to soak its juices back up into itself and insures that you have a tender, well-cooked, hot, juicy piece of steak when it is time to eat. I recommend slicing your Tri-Tip into super-thin slices cut against the grain of the meat for the most tender steak possible.

If you happen to have leftovers and don't want to make Hawaiian Roll sandwiches with them message me for more recipe ideas. Enjoy! :)
The Tri-Tip is an excellent source of protein, zinc, vitamin B, selenium, niacin and vitamin B, according to the Beef Council.
Nutrition information per 3 oz. cooked serving:
158 calories; 7 g. fat (2 g. saturated fat; 4 g monounsaturated fat), 23 g. protein, 0.5 mg vitamin B12, 1.5 mg iron, 4.2 g zinc.